5 Amazing Years of Dedication with Vidio!: Novendra Sirait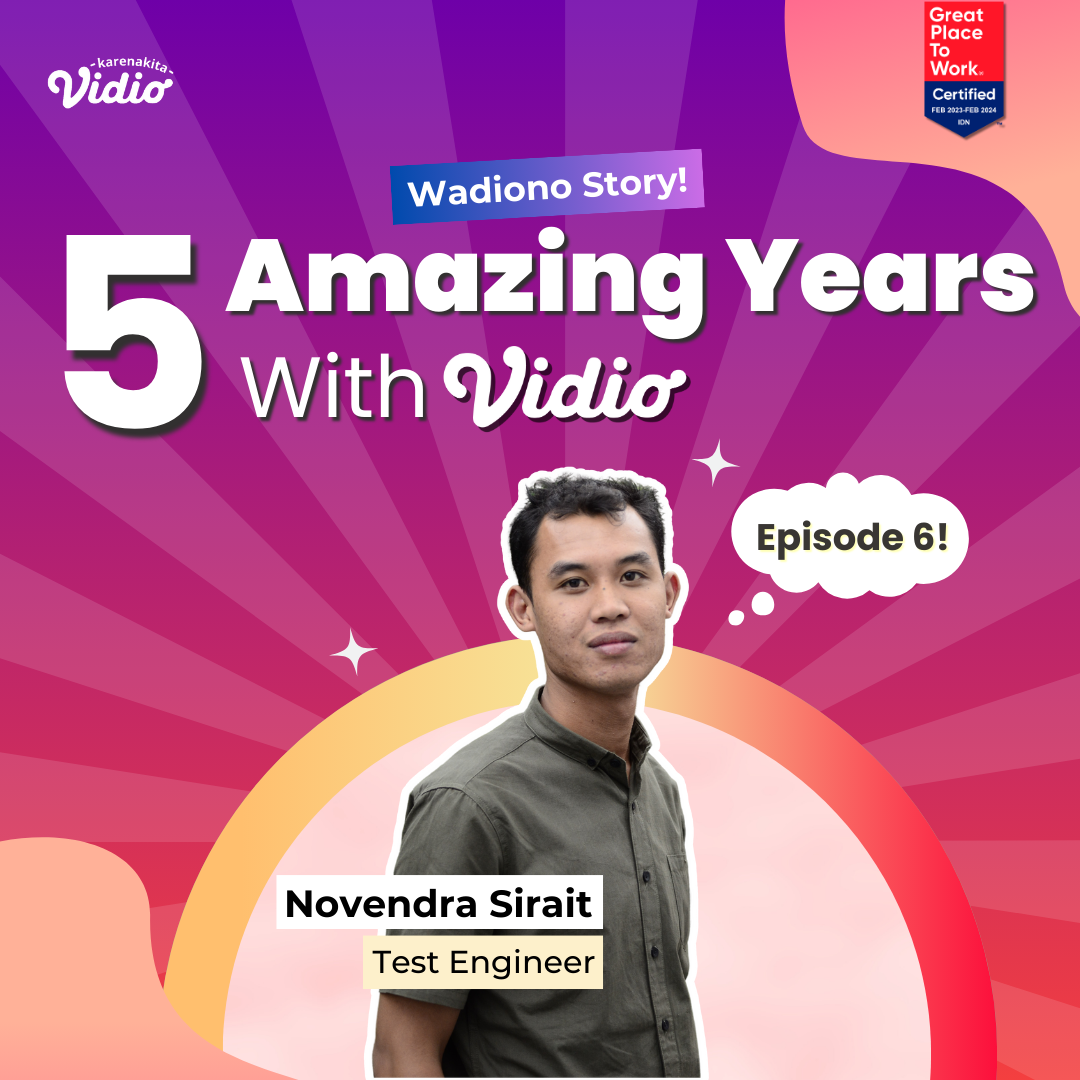 As we commence this remarkable adventure, the Vidio team is brimming with immense pride and gratitude. Over the course of our 9-year journey, we've experienced a rollercoaster of success, growth, and learning, and this journey wouldn't have been achievable without the exceptional dedication and hard work of our team.
Today, we wish to highlight the contributions of one of our outstanding team members, Novendra Sirait, a Test Engineer, who has been an integral part of our team for the past 5 years!
Well, this is how Novendra started it all..
Novendra's journey start as he participated in the transfer of employees from Blackberry Messenger to Vidio after approximately 5 months at BBM. Then he collaborated with the team through pair programming to deliver tasks and make improvements to the tooling used by the TE division.
How about your most valuable journey as Wadiono? Do you have one?
"I think the most valuable journey was when the pair programming developed. I personally think that this program really helped me to grow by evaluating mistakes and adding new insights each and every day" he said.
This year anniversary's tagline is #The9ameChanger, could you share one of your game changing moment with us?
"I would say that every experience I've had as a wadiono has been a game changing experience for my life. I always feel that challenges will always be there when working on tasks in the test engineer division. especially to maintain and ensure that the tooling used remains up to date. this is what is a game changing experience for my career experience, making me continue to learn and continue to develop myself" he said.
As you've seen how much Vidio has grown & changed, do you have any wish for Vidio on its 9th anniversary?
"Happy anniversary, Vidio! May Vidio continue to innovate and create better streaming services, develop innovative and entertaining original content for the community. Cheers!" Aamiiin!
Novenda is more than just an employee. He embodies the qualities that make Vidio exceptional. We take pride in having him as a member of Wadiono and eagerly anticipate many more years of his outstanding contributions!