5 Amazing Years of Dedication with Vidio!: Rasyid Ridho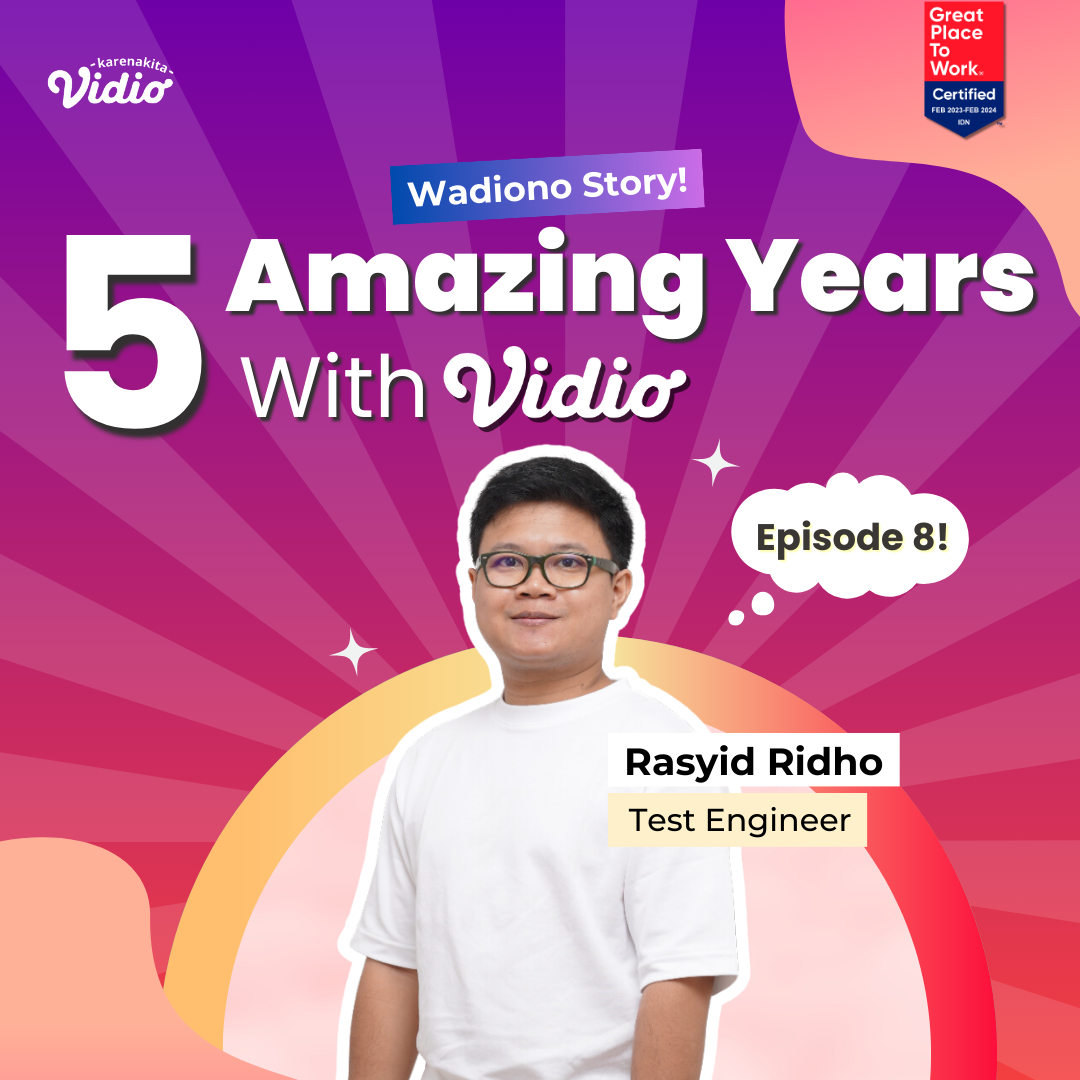 At Vidio, we embark on an exciting adventure with immense pride and gratitude. The remarkable dedication and hard work of our team have been instrumental in achieving nine years of success, growth, and continuous learning.
Without their efforts, this journey would not have been attainable. Today, we want to shine a spotlight on Rasyid Ridho, a Test Engineer who has been an invaluable member of our team for the past five years.
The beginning of it all...
"It started with BBM, then moved to Vidio. Initially, I also helped to do 1 on 1 to get input, problems, etc. from the team to solve the problem. Then I was given the mandate to help develop the TE TV team until now" he explained.
How about your most valuable moment?
His most valuable experience that he ever had is to developing automation testing for real TV devices.
"So React TV is very difficult to run automation on real devices, so we developed our own framework called Retina to be able to do automation on real TV devices.
I learnt many new things to develop this new framework, as well as pairing, communication and good collaboration with cross teams" he said.
Speaking of the #9ameChanger moment...
"Changing moments are when the pandemic forces us to work from home" he said.
Rasyid explained that initially, TV was brought to the house, but of course not everyone has access to TV. So the team has to create a new TV testing platform that we named Pireplies. The function is so that the team can remote the TV anytime from anywhere so that it doesn't interfere them to develop and test the Vidio TV application.
Rasyid's best wishes for Vidio...
"Well i guess it's just not my wish but I do hope to become the number 1 streaming platform in Asia and even the world! Can provide diverse and quality content and become the first choice in digital entertainment anywhere and anytime" he said. Aamiiin!
Rasyid goes beyond being a mere employee; he personifies the qualities that distinguish Vidio. We take great pride in having him as a part of Wadiono and look forward with enthusiasm to the numerous years ahead filled with his exceptional contributions!