Vidio Product Highlights 2019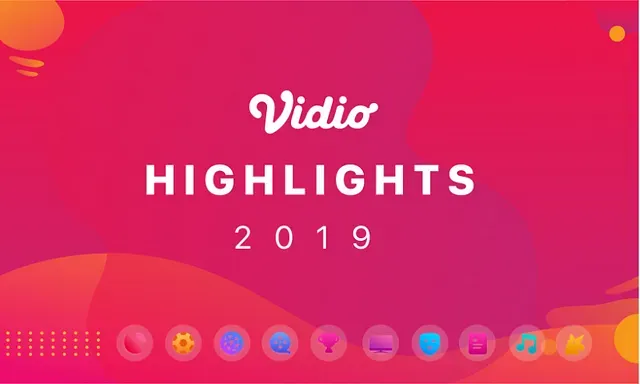 2019 is an absolutely great year for Vidio. We eagerly keep trying to give the best for our users in terms of team who work to ensure all the process and features running efficient and effective along with various and beneficial content. All of the Vidio's offering is dominated by local content with main strength in local sport content such as Liga 1, Liga 2, Volley, and Badminton. Not only sport content, Vidio also offers Original Series such as Girls in The City, Heart, I Love You Baby and On The Weekend and many interesting contents to come for drama and non-drama. Furthermore, Vidio also add some international contents which are pretty suitable with user's interest in Sport such as Champions League, European League, Indian Movie, Korean Movie and other international movies.
In this year also, our product and engineering team is scaling up with some independent teams which have specialties in fulfilling user's need. We constantly add up some payment methods, which is very worthwhile for users to effortlessly get and conveniently watch the content they have interests in. In addition to that, we expand our app on TV and iPad to provide a bigger screen to achieve home entertainment for users. Here are the features which have been developed by product and engineering teams in 2019.

This 2019, Vidio added several payment options such as: phone credit (XL, Axis, Telkomsel, Indosat, 3, and Smartfren operator), DANA, credit card, Google Play Billing, Apple Billing, and bank transfer (BCA, BRI, Mandiri, CIMB Niaga, Permata, Danamon, and BNI). Those payment channels are added to make better ease of payment for our user and to increase our selection of payment method that might be more preferred by user.
Vidio also has payment in the form of vouchers that you can get in many e-commerce such as Bukalapak, Tokopedia, Shopee, JD.id, Bhinneka, Codashop, Blibli, Lazada, and iLotte. Vouchers can be used to activate Vidio Premier package instantly or as a discount vouchers that benefits Vidio user
Vidio also partners with Telkomsel in launching a bundle package so user can watch with Vidio while saving their quota. User that buys entertainment package such as Maxstream, Maxstream Gala, and Maxstream Vidio can immediately enjoy free Vidio Premier Gold
These are the packages that we offer to our users:

Vidio also adds login and register with phone number this year. This will make it easier for user to register an account in Vidio and when they are making any payments with DANA or phone credit.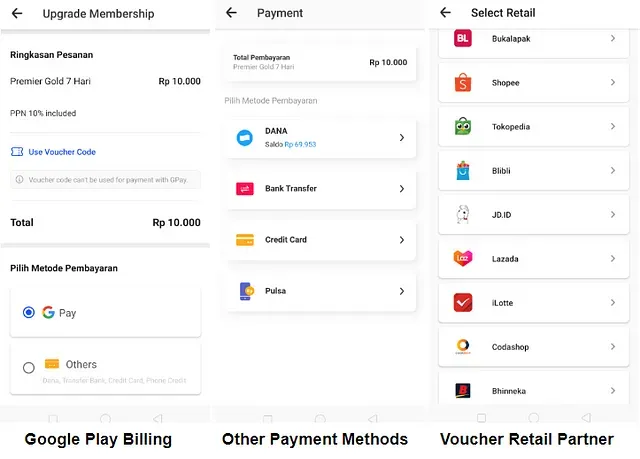 In 2019, there is a lot of changes happening on our homepage accessible through Vidio app and website. One of the noticeable changes that users can see is the sections of the content based on specific themes such as actress, storyline, release period and other themes which have been curated for users to easily and quickly find the content they want to watch. Not only on the homepage, the change also happens on category page which used to be in specific group becomes more general in order to more contents are showed up on each category.
Furthermore, the category page has already had the entry point which makes it easy to access and customized based on user's need. The curation process has done by editorial team based on behavioral data that is already available in real time.
Vidio also implements a machine learning system to provide recommendations that are more targeted to users both in terms of the content being watched as well as from the behavior of the users themselves. This is done so that each user can get recommendations that personally match their respective preferences. We give this recommendation to each user not only from the homepage but also recommendations for next videos that are interesting to them on the video page that is currently being watched.
For those who come to Vidio who want to find the video or content they want, we also provide a number of major developments in the search feature. Developments made in terms of algorithms and performance improvements by moving the Search feature to a separate service so users can find more relevant content more quickly.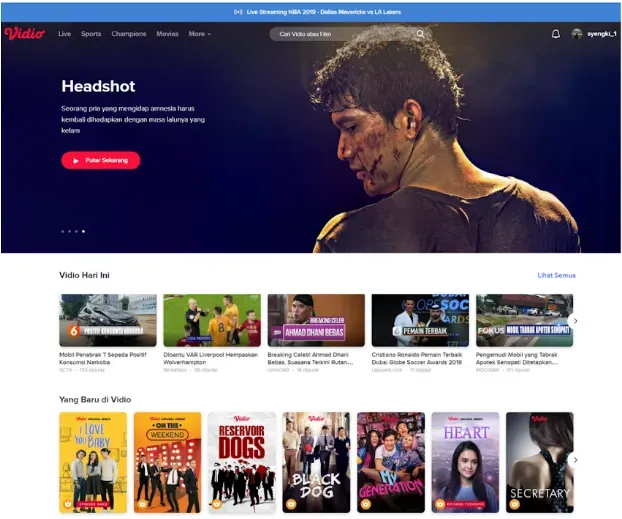 To better content for users, Vidio comes with live broadcasts of local and international TV channels, some can even be accessed in HD quality with clearer images. For users who like to watch live broadcasts, Video also provides a program schedule for the next seven days. This program schedule can help Vidio users to find out what programs will air and want to be watched. For users who like their favorite TV shows, Vidio also provides rebroadcasts so users can still watch and not miss the program.
For users who like international content, Vidio provides several choices of subtitle languages ​​that can be selected such as Indonesian, English, and even local languages ​​such as Javanese, Bataknese, Minangnese, and others. For users who have not finished a movie at one time, now if user want to continue watching it users just have to open the movie again and will automatically continue from the last scene the user had watched.
Users who like to watch series can also choose episodes while watching without having to return to the previous page. We provide an entry point when the user is watching so that the user can see the list of episodes available in the series and also select it. Especially for Android users, now they can still watch video while opening or doing activities in other applications at the same time with Picture in Picture feature.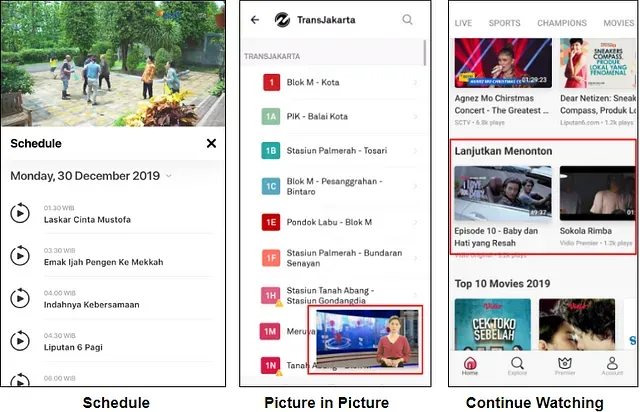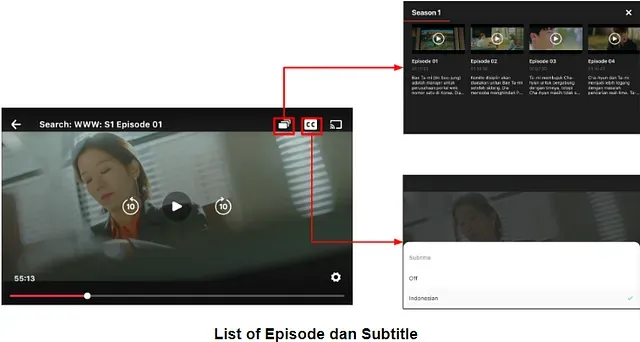 Based on our research, we got insight that users who like video streaming usually also have a Smart TV or use Android Box to enjoy TV program on a wider screen and can also watch with family or friends. In addition to the research, a lot of feedback has also come from the Google Play app and the App store to launch Vidio on Smart TV. So we decided to develop Vidio on Smart TV and release it in April 2019
Now Vidio users can enjoy our content on a bigger screen. We have launched Vidio on Android TV and Samsung TV, and have reached more than 200,000 active users in 8 months. With Vidio on Smart TV, users no longer need to install an antenna to watch local live streaming.
Vidio is now has been preloaded to Samsung TV and Sharp TV devices, so users do not need to download it again and can immediately watch our channel. We even offer a free Vidio Premier Platinum bundling package for 1 year specifically for Samsung TV customers and Vidio Premier Gold for 3 months for XL Home customers. Not only working with Samsung & XL Home, but we are also expanding our content distribution on Xiaomi TV by displaying Vidio content on the Xiaomi TV homepage. With this collaboration, when users turn on Xiaomi TV, then users will immediately be able to see the contents in Vidio without having to enter the application first. In the future, we will work with other big brands so Vidio can be more easily accessed by anyone on any TV.
In addition to Smart TV, we are also expanding our platform to a new device: iPad. The screen size that is bigger than a mobile phone and the features available can provide users with even better viewing satisfaction.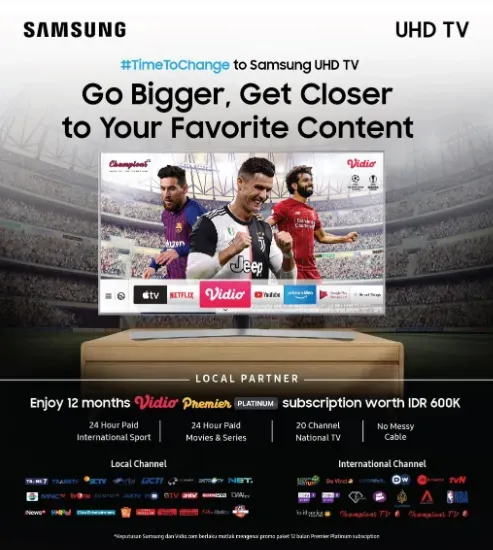 To continue to increase the number of users, Vidio held events in various cities. Users who come to the Vidio event must use the QR Scanner as an entry ticket as well as a tool to play games available on the events. Users who win the games will get merchandise provided by the Vidio team.
Vidio also became an entertainment destination by releasing Vidio Gamez features such as Quiz and Voting. These features invite users to play and gain other benefits other than watching. The quiz system has been integrated with the DANA wallet so users can get prizes in the form of DANA balance. In the future Vidio will continue to provide interesting games for users with consistent integration with TV programs or live events. The voting feature that was launched some time ago with the Panasonic Gobel Award has been used as a tool to vote for all nominations.
We are also developing the Live Chat feature so that users can communicate with other users in a more real-time on the chat box. In addition, now Live Chat admin can also provide information to all users with the pinned message feature, users only need to press the message pinned by the admin and read the information.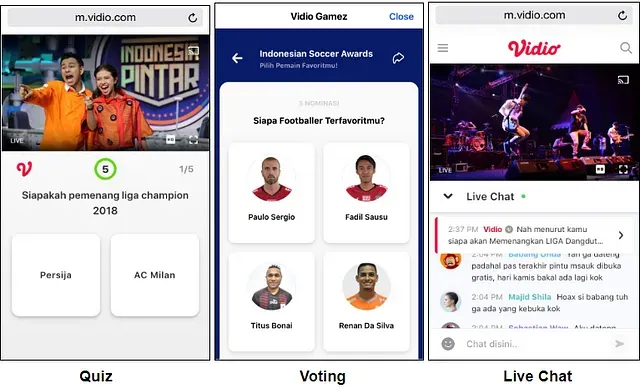 Thanks to our features and stable app performances in 2019 we got lots of appreciation and positive feedback from our users. Vidio also becomes the editor's choice in Google Play Store (for mobile and smart TV apps) for Android, App Store for iOS, and Samsung Store for Samsung TV. We give many thanks to our loyal users for their unending support this year. We are committed to keep developing Vidio to become the best streaming application.
Written by Adinda Nadinta, Septi Marhaini, Edited by Steven Cokro.