Learning Devise for Rails is Out Now!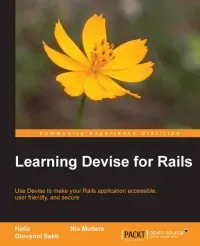 It's very exciting for me to announce that my very first book is out! Actually, I'm not the only author in this book, there are Giovanni Nugraha and Nia Mutiara whom I collaborate with to produce this great book. This book is about using devise in your rails application. It will helps the reader to start with devise, apply some customizations, add privileges, make remote authentication, and tests. So why wait? Go to the book website and make an order!
Actually, it's a little bit weird, yet surprising, the first time I was offered to write a book by PACKT representative. He contacted me via an email after he read my blog and I thought it was a fantastic opportunity. I knew that I never wrote a single book before, moreover I was a blog writer and I was fully aware that writing book is different with writing a blog. But, that was once in a lifetime opportunity, so I decided to take it! What the worst that could happen, anyway.
I started writing on June. It was intended to finish at the end of July, but unfortunately I couldn't meet it. Lack of time space made me skip the chapter deadline for several times. That was the main reason why I asked my other 2 companions to join me in the project. They have great experience in Ruby on Rails and I believe the collaboration would make this book even greater.
Their contribution was really great! We started writing again at the end of August and finally we finished at the end of September. Oh! that was tough, yet exciting! I think I fall in love in writing, so it would be great if there's any opportunity for me to write again.
By the way, if there's any one of you who wants to review the book, please don't hesitate contacting me, we can provide you the e-copy. As I mentioned above, you can also purchase the book at the packt website.
Happy reading!
Author: Hafiz B