Women Can Achieve Anything They Set Their Minds On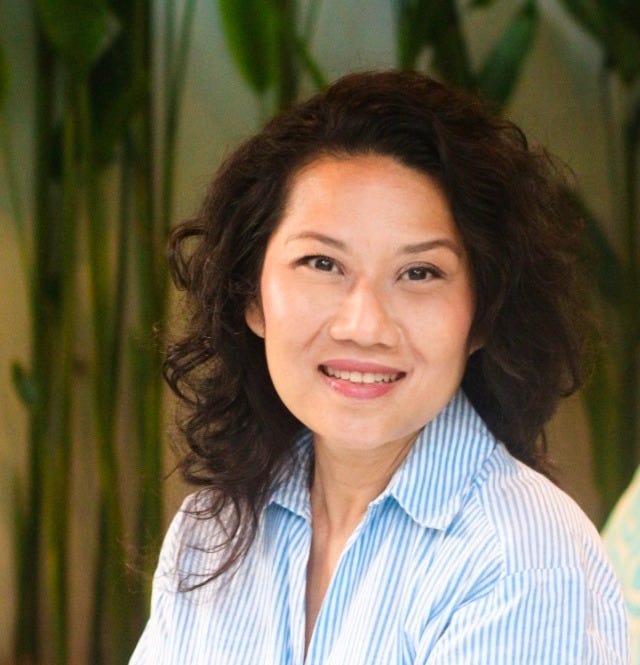 Women's Day isn't complete without an inspirational story from our female role model!
In celebration of International Women's Day (every March 8th), we held a fun and insightful sharing session with Ibu Monika Rudijono, Managing Director of Vidio. Around 50 female employees, including working moms, young employees, and student interns, participated ​​in this Coffee Break session, as Ibu Monika discussed her lifelong ambition of pursuing a career and becoming an inspirational role model for her daughters, as well as the many lessons she's learned along the way.
Ibu Monika majored in business administration and originally intended to work in finance or investment. However, during her time at university, she was exposed to Marketing, Advertising, and Retail and became enamored with the field of advertising.
After graduating, she immediately started her career in an advertising company. She remembers going to the Managing Director's office merely days after she started her job and asking for advice on a career ladder in advertising and the quickest path to reach the position she was aiming for at the time. Sure enough, with that guidance in hand, it only took her five years to become an account director. That same determination continues to drive her success even today.
Despite having a flourishing career, her path was not always smooth. Initially, as a young mother, splitting her time between family and work gave rise to feelings of guilt, leaving her conflicted between pursuing her career or spending more time with her then three daughters, who were still toddlers and in need of attention. This led to her stifling her career for a time, believing that being a good mother required sacrificing her ambitions.
However, at a certain point, she realized that was not the case. What she was doing, pursuing a career, being a successful woman in the workplace wasn't a barrier to being a good mother. In fact, it was the opposite: by having a career, she was providing her daughters a role model, an inspiration, and living proof that a woman's success is only limited by the scale of their dreams.
With that revelation in mind, as her children started to grow up, and grow in number (another daughter), so too did her career, spanning various technology companies until she became one of the great leaders at Vidio here today.
After hearing Ibu Monika's story, the strength of her character is clear. But more than that, she is driven by an enduring love for her family, a source of strength as she continues to inspire her four daughters.
Why is being a role model important to her?
Because she wants to show them that anything is possible for women.
Women have a voice

Women have power

Women can do anything they set their minds to.
She wants to instill a mindset that 'Perempuan itu Bisa!'. That doesn't necessarily mean being a career woman — at the heart of this mindset is that a woman has the right to choose her path, whatever it may be, and make it happen.
Nowadays, Ibu Monika has her own way of balancing her career and family life. The key, she shared, was to become a time-disciplined person and separate her time between work and family matters. She's also consistent and commits to holding regular family events and dinners to spend time with them.
"I focus on getting the task done in the office or during working hours. Then, scrolling social media or playing a mindless game like Candy Crush on my way home allows my brain to relax and avoid bringing 'work ideas' home with me. So that when I get home, my mind is no longer in the office and I can focus on taking care of my family. I check email/Whatsapp occasionally after the kids have gone to bed, but I don't respond unless it's an emergency. Aside from that, there is this 'ritual' for always spending time with my family during workdays by going out for Wednesday dinners, which everyone makes time for."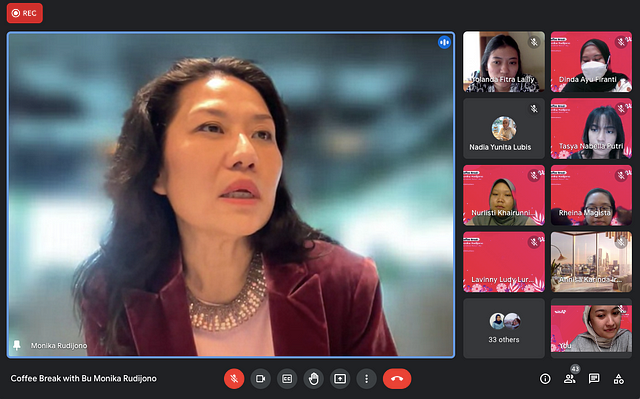 At the end of the session, after hearing her story, there were some important lessons that we can take and learn as women in the workforce:
a) Women should have more confidence

Women can be their own enemies. Women often have low self-esteem and feel that they don't have the same abilities as men, even though they are just as capable or even better. This mindset will kill your opportunities and become an obstacle to your growth.

b) Always have a mindset of 'I deserve this! I'm entitled to this!'

After all the effort you put in, don't hesitate to reward yourself. In a world that always tries to humble women, acknowledge all your accomplishments. Lift your chin, put on your best smile, and say, 'I've worked hard for this, so I deserve it!'

c) Women should ask for more. Why not ask for more challenges?

Women should not just accept whatever they're given. You have every right to demand and ask for more opportunities. With this mindset, you can break your limit and outgrow yourself.

d) Women support women

Being a woman isn't easy. Whether you want to be an independent woman who stands up for yourself, a great leader, a working mom, a daughter, or just the best version of yourself, all choices have their own challenges. Therefore, as women, we have to encourage, support, and empower each other to make incredible things happen!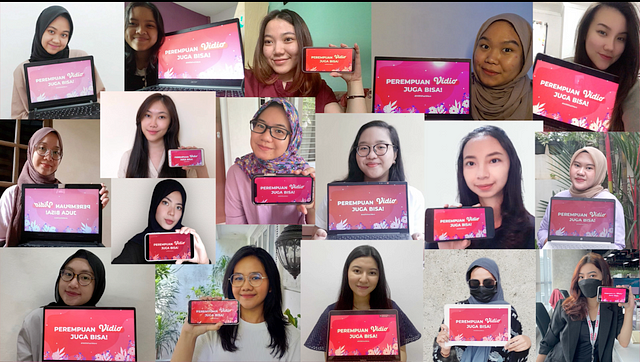 Here at Vidio, we are fortunate to have a community called #PerempuandiVidio to share support, stories, and recommendations with our female employees. Moreover, we fully support women's aspirations and provide opportunities and safe spaces for women to grow and embrace their passion. Because we believe that: 'Perempuan Vidio Juga Bisa!'
#PerempuanVidioJugaBisa#IWillWhatIWant